As I reflect on my trip in Cabo San Lucas, I've been thinking about what sums up a great vacation. In short, my definition of a great vacation is all about the experience. For me, it's made up of equal parts R&R, quality family time, tasty cultural cuisine and of course, shopping local! I love hunting for the perfect "tangible take home" so I can cherish the memories made and add a delightful piece to my living space. Plus, it gives  a good feeling to know that you have helped support their local economy. I will literally scour foreign towns and marketplaces American Picker style! It not only feeds my creative energy, but also gives me an adrenaline rush when I find that amazing item in a "have to have it" moment.
For me, part of the fun is the shopping experience, the thrill of the find and maybe even a little haggling en espanol…. courtesy of my "interpreter" who is tagging along with me for this excursion. At three year's old his spanish is far superior to mine, but his taste's??? TBD. Although he definitely loves a colorful find just like I do! Clearly he needs these sunnies, but let's see if he can talk dinero with the shop owners!
Of course, haggling with street vendors also makes me wonder "how low can you go?" I never really know if I'm overpaying since everything is negotiable. Since we have the world marketplace at our fingertips online, I thought it might be interesting to compare my local finds with online finds to know for sure. Here is what I found!
First up, my obsession with all things Otomi. Otomi embroidered art and textiles pay homage to traditional mexican style. These gorgeous patterns often featuring animals are intricate, colorful and big on my cravings list! I negotiated this table runner down from $150 to $100 but I also found one for $72 on e-bay that is nearly identical and also imported from Mexico, so…. hmmmm. Pass. They also were selling full tablecloths starting at $400 compared to what I found online ranging from $250 upward.
I absolutely love this gorgeous Mexican style embroidered table runner from Anthropologie, tassels and all, but it's a definite splurge at $298.
Next up, I went on to find a deal from another vendor who sold me 10 otomi placemats (below) for $20 a piece that are going to be turned into pillows. They are online for $35 each, so I'd say that was a good deal! They are all beautifully hand-stitched and embroidered, and I think these will be the perfect compliment to a kid's bedroom or playroom. Fun, whimsical yet refined, and washable! No matter how old you are, this is not something you outgrow.
This Otomi inspired bedding is from LandofNod and it's on sale right now with pillow shams starting at $14.95. I love that it's printed rather than embroidered making it more durable, and an overall great value. Hurry and get your cultural chic on!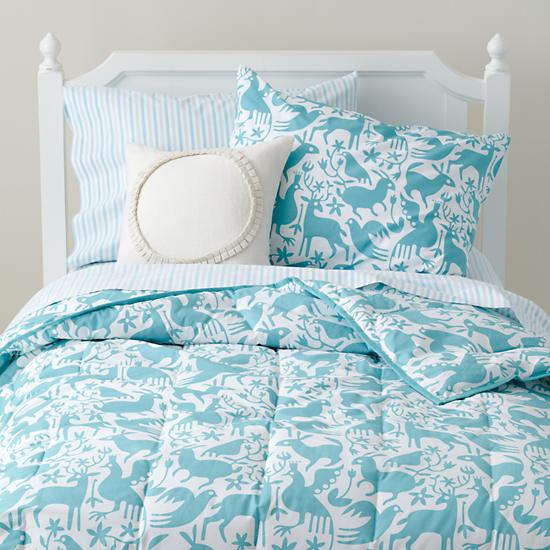 I also came across this awesome otomi-inspired canvas bag and the girl who made it! She's a graphic designer who made 25 of them for a family reunion trip. She had extra, so I chatted her up in hopes of getting a "gringo" discount. Isn't it adorable?
Moving onto clothing, I spotted these darling little girl's dresses, but Quinn wanted no part of it. Hey, maybe they're for your cousins, dude! Don't get your fruit loop colored sunnies bent out of shape, geez. These were roughly between $25-35, comparable to what I found online, but these were twice as cute!
Lastly, I contemplated this colorful woven tablecloth. I love the graphic stripes and the beautiful colors, but at $80 pre-haggle price, it wasn't a must-have.
Bottom line, purchasing is all tied to emotion (you don't say?). If you love it, even if it's in the moment, price often can become secondary. There are deals aplenty online, but that purchase will never tell a story that can only be told by a day combing through vibrant textiles and multi-colored pareos as a mariachi band follows your footsteps. Simply put, an experience is something money can't buy, it is felt. We attach emotion to items that remind us of those experiences which is why we treasure our souvenirs. That's what souvenir means after all – "memory" in French.  So in spirit of making memories, I say, go squander a peso or ten, you're on vacation! All you'll remember is the time spent with those you love, which is hardly a rip off, it's priceless!
xo,
Emily